Your vessel may need to meet USCG Documentation Standards, and you've been looking into the requirements for this documentation. Also, you might be wondering why it's so important to know about and follow these standards.
After all, what is a Standard, if not a commonly accepted one, to accomplish a task? Several USCG paperwork criteria must be met to depreciate your yacht and avoid costly penalties from the US Coast Guard.
Proof of vessel ownership, citizenship, and eligibility for specific endorsements are all served by USCG documentation. Obtaining a USCG license to fish, haul freight, or use a vessel for recreational purposes typically necessitates documentation proof.
Only vessels registered with the United States Coast Guard must adhere to Documentation Standards, a widely held misunderstanding.
This is incorrect. The United States Coast Guard (USCG) allows recreational and commercial boat owners to document their vessels if they have valid reasons for doing so, such as obtaining an endorsement or a license.
Therefore, this article will discuss why recreational boat owners should consider obtaining the necessary paperwork to obtain an endorsement and even be considered qualified to captain their vessel.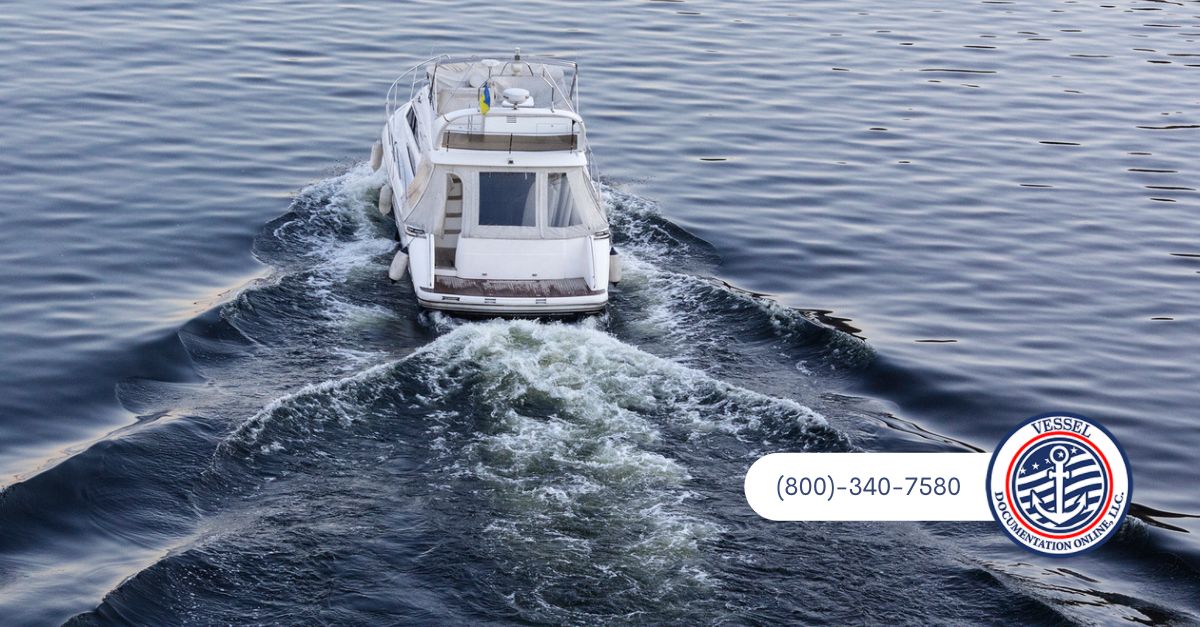 What Is the USCG Certificate Of Documentation?
A USCG Certificate of Documentation is a certificate that may be acquired by any recreational vessel above five net tonnages. This document is an essential aspect of your vessel documentation and provides its official name, homeport, owner, and country.
So, who needs a Certificate of Documentation? Anyone who owns an American-flagged recreational vessel above five net tonnages may get a Certificate of Documentation.
By now, you undoubtedly have a vessel that you enjoy using on the water. This indicates the ship is registered with your state or local government in many circumstances.
According to flsenate.gov, when your boat is registered, it comes under the control of that state government. While there are certain advantages to this, you may be asking whether there are choices for registering your yacht.
One alternative is to register your watercraft with the United States Coast Guard. The USCG offers a program for boats exceeding five tons; it's called the Certificate of Documentation (COD).
What Is The Benefit Of Coast Guard Documentation?
If you're considering doing business in other countries while on vacation, possessing a valid Coast Guard Certificate of Documentation might be a great and beneficial asset.
When you have it onboard your vessel, you get the much-desired degree of respect associated with these documents, making interacting with local authorities more straightforward and more professional.
For you to be protected by the United States Government when sailing aboard a U.S.-flagged vessel, foreign nations need both the Certificate of Documentation and the Coast Guard Merchant Mariner Credential before you may operate under the protection of the United States Government.
The Certificate of Documentation grants you the authority to transport people on a contract basis. It gives you the power to transport freight and commodities on behalf of others.
You have the option of transporting persons and goods to any port in the world under this arrangement.
How Do I Transfer Ownership Of A Coast Guard Documented Vessel?
In general, transferring a boat title from one individual to another may be a time-consuming and challenging process.
Some states require that a new title be granted and that the former title be relinquished before the new title may be issued.
You may transfer the same title under your name in other states, which will change the ownership status on the original title.
To respond to your question in further depth, I'll need to know where you're in and if you're talking about a boat or an 80-foot recreational vessel, respectively.
The procedure for transferring ownership differs from state to state. If you want assistance in sorting through the documentation, we are happy to provide it for you.
 It is necessary to complete several paperwork while you are transferring ownership of your vessel.
Affectionately dubbed "formally recorded documents," this is the documentation that must be completed for the new owner to have access to and usage of your yacht.
How Do I Find The Owner Of A Documented Vessel?
If you own a boat, you are likely to need to locate the owner of a documented vessel at some time. To inquire about their ship, maybe you've lost something in the sea and need to recover it, or perhaps you want to learn more about it.
If you don't know where to search, it might be tough to track down the owner of a legally registered sailboat.
 To establish who owns a yacht without adequate paperwork, many owners fail to appreciate the need to keep their information current.
Ensure the boat you're purchasing has been appropriately documented before you take it out on the water. Because of this, it might be challenging to locate the legal owner of a boat that has been registered. The VDC can help you find the owner of a registered boat so that you can verify that your purchase is lawful. This is where the USCG documentation center comes into play.