If you are the owner of a vessel in the United States, then you know that there are specific documentation requirements that you are obligated to fulfill to stay in compliance. For instance, if you intend to take your yacht or boat outside of the country, you will be responsible for ensuring that it is appropriately documented following the requirements of the law.
This means ensuring that it possesses an official certificate and number that identifies it in a manner that is unambiguous for taxation. If you cannot obtain the necessary paperwork in place promptly, your yacht may be prevented from leaving the nation until everything is in order.
In the following blog article, we suggest ensuring that your vessel is always compliant. Here are some tips to assist you in maintaining compliance:
Make Sure Your Vessel is Registered with the US Coast Guard
When you own a vessel in the United States, you should ensure that your boat complies with all of the requirements of that ownership. The obligations do not stop with purchasing and maintaining your boat; instead, they begin the minute you hoist anchor or moor your boat at a dock and continue until you return it to its original location.
Before you sail, you need to make sure that you contact the United States Coast Guard to find out what requirements need to be met. The information that is provided in the following paragraphs will assist you in maintaining compliance with documentation requirements and ensuring that you have all of the essentials for a journey that is both secure and pleasurable while onboard your boat.
Carry Your Registration Certificate on Board At All Times Per the Documentation Requirements
You must always have your registration certificate on board if you own a boat in the United States; it is one of the most crucial pieces of paperwork you may have with you when boating. However, suppose you are like most boat owners. In that case, the original registration certificate is usually stored away in a secure location (like a file cabinet or desk drawer) that is not near the water.
Unfortunately, this may be somewhat risky: If you're ever stopped by law police or another authority and asked to show your registration, it might take a few extra minutes to find everything and go back out on the lake. The simplest method to avoid this type of holdup is to have a duplicate registration in a readily accessible location on board; make sure the duplicate has the exact details as the original!
If you can't fit two copies of your registration in your vehicle, you may always use another method to prove your ownership. It is possible to carry a smaller and more convenient registration card instead of a paper copy of the actual document.
Follow the Proper Safety and Security Regulations While Sailing
As a ship owner, you're responsible for ensuring your ship is safe and secure for everyone aboard and complying with all applicable regulations in these areas, even though there is a wide variety of rules and regulations, and policies in place that might affect your actions here. If you own a boat or ship, you're responsible for ensuring the safety of your passengers and crew by following all applicable regulations.
This includes making sure that everyone who sets foot on your boat has gone through some training program, has the necessary safety equipment on board (such as fire extinguishers), and has the correct paperwork if you're crossing foreign waters. Any ships you rent must also be up to par with your own.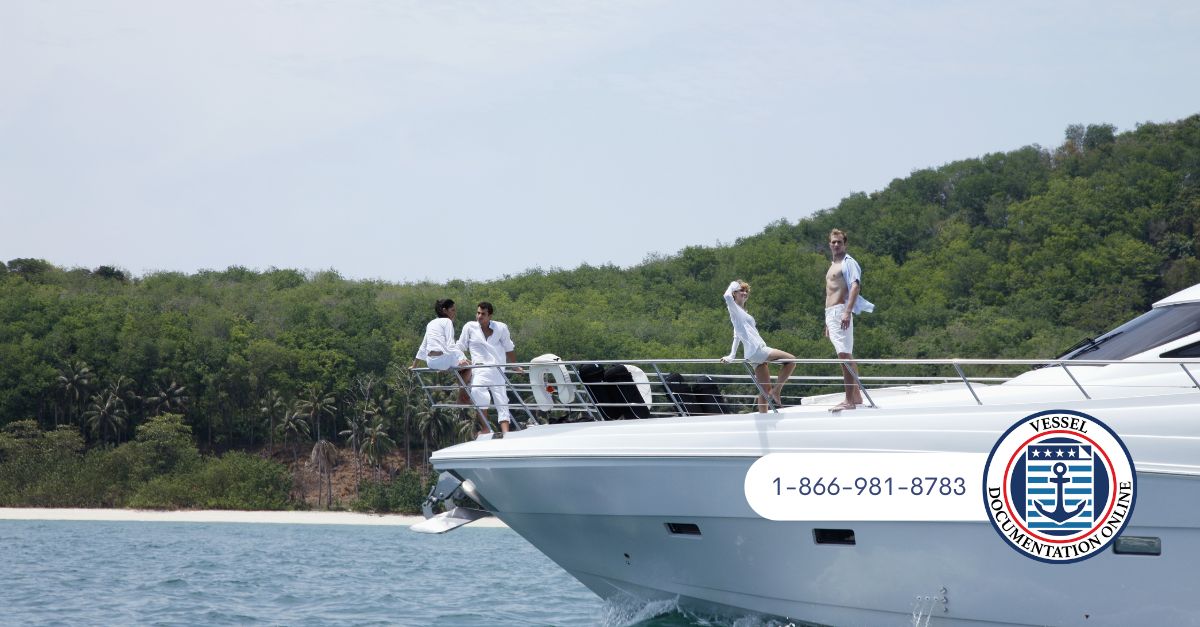 File an Annual Report with the US Coast Guard Detailing Your Vessel's Movements and Activities
If you own a boat, you must comply with the documentation requirements set out by the United States Coast Guard. Water travel is a fun and relaxing way to move around. An essential thing you can do is ensure that the registration of your vessel is always up to date by submitting an annual report. Check out the Vessel Documentation page on the United States Coast Guard's website if you need clarification on what you need.
You may also visit a local office in person or give their offices a call to get further information. Be careful to familiarize yourself with the Leisure Boating Safety and Security requirements that may be found online, even if you plan on boating for recreational purposes. These laws must be followed.
Vessel Documentation Online, LLC is the best place to find information about how to comply with documentation requirements. We're reliable, and we've been around for years—look us up online. It's easy to get started with us. Our experts are standing by to help you at 1-(866)-981-8783.