Do you find it to be a chore to fill out your vessel documentation? If you're like so many other vessel owners, "completing your vessel documentation" is something you have to block out time for. Then, when the time comes, well, you procrastinate. Nothing wrong with that, it's human nature. Who actually wants to take time out of their busy schedule to complete boat documentation? That's why we've built a USCG portal that's as easy and simple to operate as possible. With it, you can fit it into your schedule, no matter how busy you get.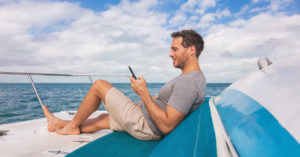 Mobile Optimization 
That's one of the most effective ways we have of making our site easier to use. See, our site loads completely and quickly on any device, as long as you have an internet connection. Our USCG portal can be accessed anywhere in the world, at any time. So, the days of being "chained to your computer" while you fill out these forms are over. No longer do you have to stay in one place to complete these forms. You can do a little bit over the course of a day. Have a moment at breakfast while you're drinking your coffee? Fill out some answers. Fifteen free minutes between meetings in the middle of the afternoon? Make a little more progress on the form. Long commercial breaks during the game tonight? You can complete the form you've been working on all day. It really is that easy. 
Security 
All that "mobile optimization" wouldn't be worth it if someone could easily steal your data. That's why we've made our security as airtight as possible. As of this writing, we use "SSL-encrypted" security. That's the absolute top of the line security at this moment. That said, we're always looking for better, even more effective security measures. So, by the time you read this blog, we may have implemented something even more ironclad. We understand what an enormous responsibility it is that our customers entrust us with their data, and we do everything in our power to live up to it. 
Easier Renewal 
Vessel registration has to be renewed annually. So, you have to go through the process every year through our site. That is, unless, of course, you avail yourself of our "multiple-year renewal" option. Through us, you can renew for up to five years in advance. With just one press of a button, you can eliminate one more chore that you have to deal with for years in advance. 
A USCG Portal with Document Processors and More 
When you're filling out your vessel documentation, you probably want to get it done quickly. That can lead to small, tiny errors. In the past, those could have gotten your documentation returned to you. However, we've hired the best document processors available. If there are any even small, tiny errors on your forms, they'll fix them before they're passed along. We see it as one more way that we can help. For any further questions about vessel documentation, call us at (866) 981-8783.