If you own a boat, you've undoubtedly heard that you need to conduct a vessel documentation search at some point in time. Regardless of whether you're purchasing or selling a boat, you'll have to do a vessel paperwork search at some time. You may have heard of the phrase "title search" and wondered whether they are the same thing. Both terms refer to looking up a boat's ownership history, although they're not quite the same.
A straightforward approach to learning about boats is to search for their paperwork online, according to uscgboating.org. In order to figure out what vessel name, year, and owner the database item refers to, if you have access to it, there is a simple method to do so. The Vessel Documentation Online LLC website has this search feature. We built the site so that individuals looking for their boats or other information needed in levying property taxes wouldn't have to compete with tax-focused websites. We make it simple for everyone interested in boats to get the information they need by offering an open platform for searching vessel papers. Here are six simple steps on how to use our Vessel Documentation Search tool:
Go To Our Website and Click on the "Vessel Documentation Search" Tab
If you have an idea of the specific sort of knowledge you want to acquire, we will promptly provide you with the means to receive it. Your one-stop shop may obtain information on vessel paperwork at Vessel Documentation Online LLC. We make it very simple for you to get the information you want, whether you are researching the history of a ship or looking into who the vessel's current owner is. Our basic search engine provides you with a thumbnail picture of the boat, which will assist you in identifying it, in addition to background information such as its initial name and how it has been altered throughout its history. If you don't know what information you're looking for, our Vessel Documentation Search tool may be complex. However, it is a terrific method to quickly obtain information about historical ships. Use the "Vessel Documentation Search" menu option at the top of our website to begin your search for ship records.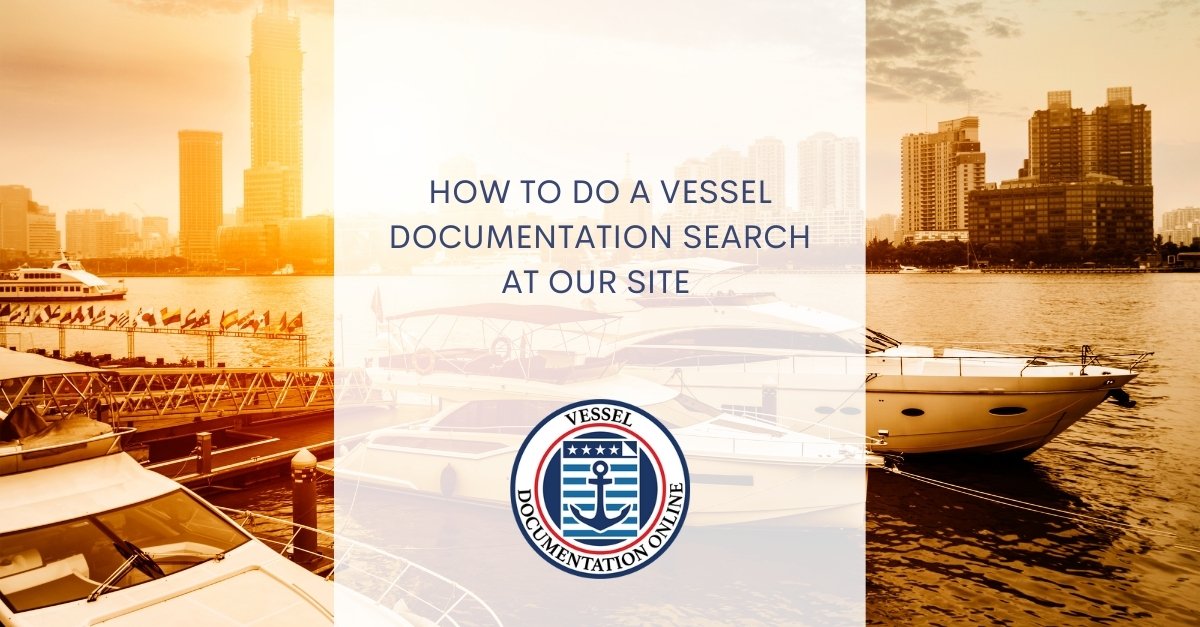 Enter The Name of The Vessel You Want to Search for And Click "Search"
If you've already restricted your search to a particular nation but cannot get the correct registration number, enter the vessel's name and press "SEARCH." You'll now have a comprehensive list of all vessels registered in that nation with that name on the stern. Using one of the two text boxes at the top of the page, you may input a ship's name or number to begin your vessel documentation search. It's possible to type in a ship's name or number in any of the first two boxes, but only in the second box may numbers be entered (for example, all three-digit numbers or only eight-digit numbers). Both boxes may be used to search for any combination of the following: After clicking "Search," you may type in your best estimate in one of the text fields and see what results come up. When you enter your search parameters, we'll provide you with a list of all possible results, including typos.
If There Is More Than One Result, Click on The Result to See More Details About It
If there is more than one result, click on the one you are interested in to see further information. You will be able to see the ship's call sign, its IMO number (which is an identifying number that is recognized globally for boats), and the times when it entered and left the port. Suppose there are multiple results, but they all appear to be the same vessel with different names or ages. In that case, you can refine your vessel documentation search to look only at results with specific characteristics. For instance, if you are looking for a specific vessel and want to know whether it is still in service today, you can narrow your search by checking the "in service" box under the "Status" heading. You may also use this function to check up on previous boats that have landed at our location for prior journeys. If you do so, you might be able to find out additional information about what.
One of the most prominent companies in maritime record research and documentation is Vessel Documentation Online LLC. Offshore registered aircraft, boats, yachts, and mega-yachts are among our specialties, and we can attest to their correctness and professionalism. Vessel Documentation Online LLC has a team of competent and pleasant investigators that can help customers with a wide range of vessel records and registration inquiries. We provide boats of all kinds with accurate, quick, and legally legitimate documentation services. Contact us at (877) 564-1398 if you want to learn more about your options.