If you have been doing your fair share of research lately, you might be aware by now that the United States Coast Guard (USCG) is the governmental department that oversees all of the maritime activity along the country, and even the international waters close to the US (after 200 nautical miles from shore). This article in particular will tell you everything about the US Coast Guard Portal, including what vessels will need to get their registration and even what are the different types of boating documentation you can get from them. Read on and find out!
Who Needs USCG Documentation?
Everyone needs documentation to be able to navigate their vessel freely. The question is what is that documentation? The first thing you should know is that USCG documentation refers to the federal type of registration. At a state level, it depends on each jurisdiction, so even if you licensed your boat on the US Coast Guard portal you will still need to check your status at the appropriate state guvernamental department.
To be able to give your boat a license, most states will require you to present proof of ownership, the vessel's title (when applicable), a full description of the boat, and the Hull Identification Number (HIN). Keep in mind that for navigating it, you will also obviously need your boating license. USCG documentation, on the other hand, will only be possible for vessels exceeding 5 tons of gross tonnage (usually around 27 feet long). Whether recreational boats can choose to get this type of documentation, will be compulsory for commercial vessels.
Generally, this would give those vessels who got their appropriate certificate of documentation three main advantages:
USCG is worldly recognized so the process of entering and leaving foreign ports will be much simpler given that this certificate is also considered proof of ownership.

You will have access to preferred mortgages to be able to pay for your ship

You can display your vessel name along with its hailing port on the outside of the boat, instead of the state registration numbers.
What Types of Documentation Can You Get on the US Coast Guard Portal?
The Coast Guard Portal will give you access to many different forms you may need to comply with boating regulations. They are organized by number, so you only need to enter into their website, find the form you are looking for, download it, complete it and send it via regular post to the USCG offices. Here's a list of the documents you can get from them:
CG-1258 Application For Initial Issue, Exchange, Or Replacement Of Certificate Of Documentation; Redocumentation
CG-1261 Builders Certificate
CG-5397 Application For Simplified Measurement
CG-1340 Bill of Sale
CG-5542 Optional Application For Filing (Mortgage)
CG-4593 Application, Consent, And Approval For Withdrawal Of Application For Documentation Or Exchange Of Certificate Of Documentation
CG-1356 Bill Of Sale By Government Entity Pursuant To Court Order Or Administrative Decree Of Forfeiture
CG-1280 Renewal of Certificate of Documentation
CG-7042 Credit Card Form
CG-7043 Abstract of Title or Certified Copy of COD Request Form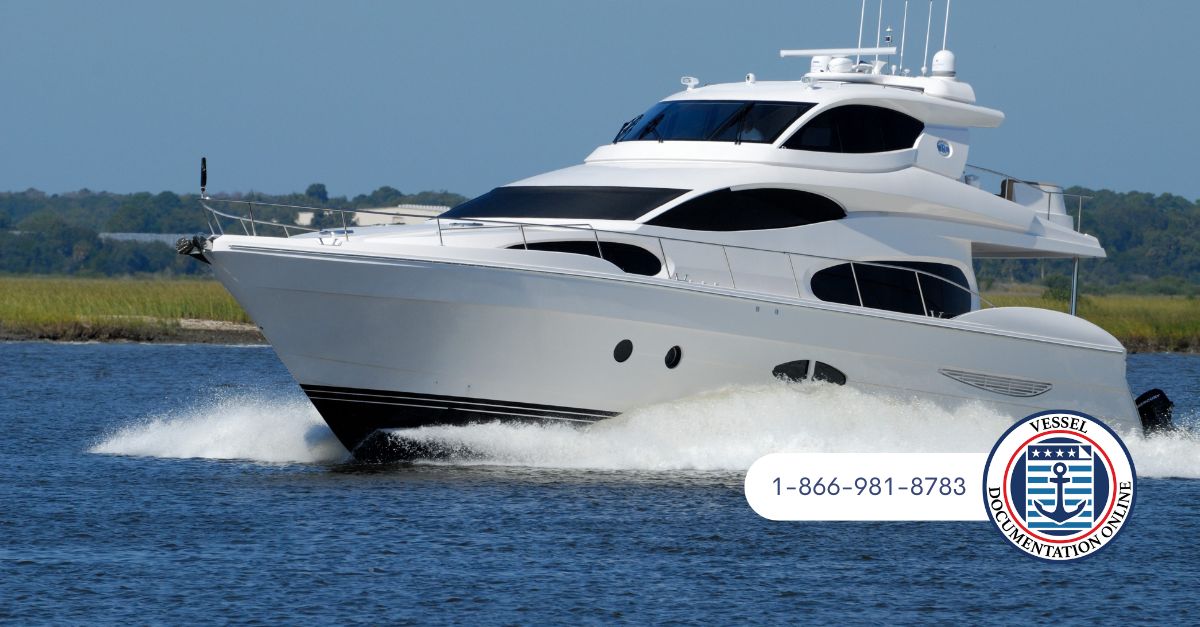 Getting your Vessel Documentation Online
If you don't feel like completing these forms manually, and would feel more comfortable having someone overlooking your documentation so no mistakes are made I think we've got the solution to your problems: Vessel Documentation Online.
We are a third-party agency that gives you access to all of the US Coast Guard Portal documentation. Additionally, we allow you to get it online while your details are kept private, given that our platform is SSL-encrypted. Contact us today for more information!