Do you find the process of completing Coast Guard vessel documentation to be far longer than it should be? Does it feel like filling out boat documents shouldn't take that long? We're with you. Those are some of the reasons that we built a site where you can fill these forms out in minutes. You can even see which parts you absolutely have to fill out by following the little marks, so you can do it in even less time. There are many other ways that we've used our site to expedite and improve the process. 
Security and Speed 
While we've made our site fast and simple to use, we've never compromised on security. Indeed, we don't believe that anyone should ever have to choose between securing their online data and utilizing a site that works quickly. By harnessing highly advanced SSL encryption, we're able to provide our customers with the level of security they deserve. This is why so many trust us with their information, having the peace of mind that comes from knowing it will always be protected. We're continually improving this security, so as to always offer you that same level of protection.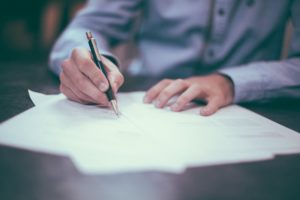 Renew in Advance 
You have to renew your vessel documentation every year. It's true. Every single year, you have to renew your documentation. That is of course unless you come to us for your renewal. Then, you can renew for multiple years. Instead of having one more thing you have to worry about, one more potential pitfall that can keep you from using your vessel how you would like, you can let us take care of it for you. In fact, you can renew it for more than just two years, more than just three years, and even more than just four years. Yes, you can renew your documentation for up to five years with one press of a button. We see it as one more way that we can make the process that much easier. 
Priority Request/Rush Processing 
We know that for many of our customers, time is of the essence. They, quite literally, have no time to waste when it comes to being in compliance with their documentation. So, to better serve them, we've made it possible to opt for "Priority Request/Rush Processing" on many of these documents. That means you can make sure yours goes to the top of the queue, to get your documentation back that much faster. 
An Online Center for Coast Guard Vessel Documentation 
Making the documentation process easier isn't just something that our site does, it's something our staff does as well. We have document processors on our payroll who will look over your forms, find any small errors that could get your forms rejected, and then fix them so that you don't have to worry. We also have staff here in our office who are happy to answer any questions that you might have. You can email us or call (866) 981-8783.