If you are the owner of a USCG vessel, you know how important it is to comprehend the rules set out by the USCG. However, locating the needed information might be challenging—that is, until today. Finding exactly what you're looking for has never been simpler than it is with our brand-new USCG vessel information tool. Input a few bits of information, and our tool will handle the rest of the process for you. In little time at all, any piece of information that you need will be at your immediate disposal. You must be able to discover where it is registered, its dimensions, and any other pertinent information. Here are several other methods to get the information on a USCG vessel that you require:
Go Online and Use the Vessel Search Function on The USCG Marine Safety Website
You can search for documented and undocumented vessels using this search engine. Additionally, you can search for ships that are now in service and ships that are no longer in operation. You also have the option of selecting whether you want your search results to include vessels flying a flag of a country other than the United States, as well as vessels flying the United States flag owned by individuals, businesses, or other organizations.
Your search will return a list of results that will provide you with as much information as possible about each vessel. This information will include the vessel's name, length, official number (if it has one), and home port. As long as the search terms you choose fit within the appropriate restrictions; this website will provide results that cover all categories of ships owned and managed by the United States of America, including those used by the military.
Another Way to Find This Information Is by Visiting Your Local Coast Guard Office
You may get this information in still another way by going to the Coast Guard office in your area. Even though it's possible that there isn't a local USCG office near where you live (particularly if you live in the middle of nowhere), it could be worth it to go across town or, at the very least, down the block to get your hands on the original papers.
You can almost surely discover any information on a USCG vessel that you want here, but you may be required to wait around for someone who can assist you in looking through their files. This approach also has the downside of costing money; depending on whether or not your request is covered, there can be a modest price associated with using this technique.
Search Commercial Databases for Information on A USCG Vessel
You also have the option of searching various commercial databases, each of which is likely to include information on ships registered in the United States. These databases are updated more regularly than the ones found on the US Coast Guard website, and they contain more specific information, such as the name of the vessel's owner, the cargo carried, and any previous incidents.
However, there is a possibility that the commercial databases you use may not be able to provide all of the information required for your study. When performing research on a certain vessel, for instance, it is beneficial to have access to size-related data such as the vessel's length or weight. Yet, the majority of databases do not provide this kind of information.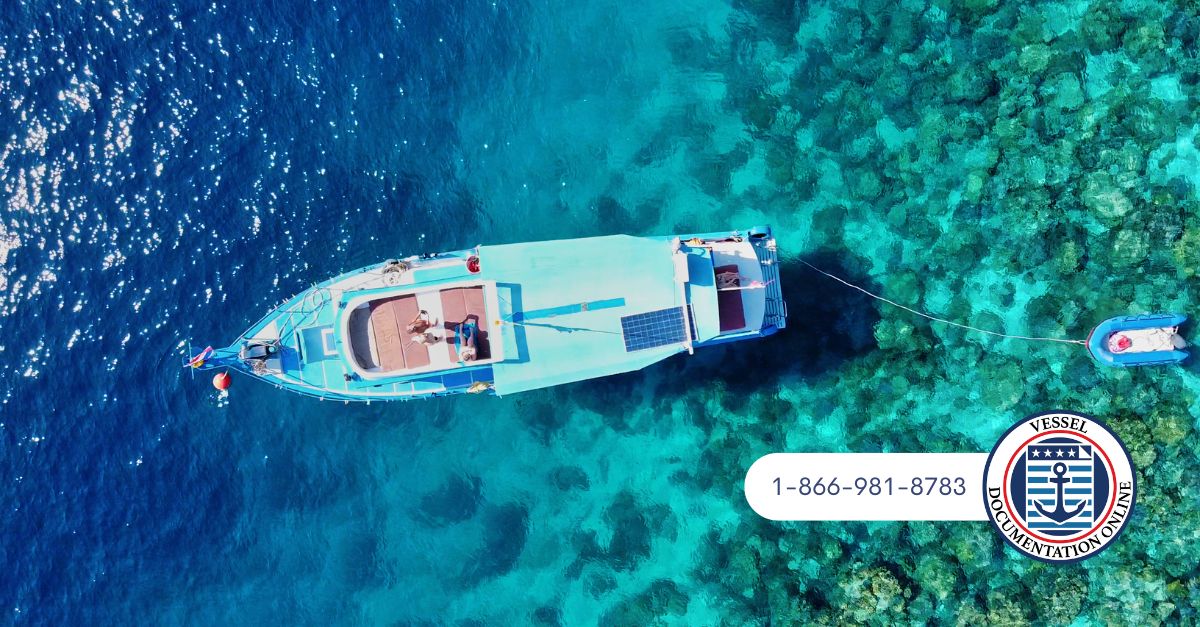 You Can Also Order Vessel Documentation Through the National Vessel Documentation Center (NVDC)
The United States Coast Guard, sometimes known as the USCG, is an agency of law enforcement responsible for ensuring the safety of recreational watercraft, small boats, and big ships, according to wikipedia.org. Additionally, the United States Coast Guard protects residents in coastal, lake, and river environments across the United States. The United States Coast Guard maintains a comprehensive website that is a source of information regarding boating and life vests and the Coast Guard itself.
On this website, you can discover a variety of materials that will help you understand your life jacket requirements, how to pick one, and even how to wear one correctly. These resources will help you understand how to choose a life jacket and properly wear one. If you are interested in purchasing a recreational watercraft, you can also get the USCG vessel paperwork numbers that you will need here.
Vessel Documentation Online LLC can help commercial mariners and captains find USCG vessel information. If you wish to verify a ship's register or execute any other captain or ship owner needs, we can help. We'll provide you with all the assistance and support you need and create a strategy to meet your requirements swiftly and efficiently. Our helpful team is available 24/7 for service-related queries. Call (877) 564-1398, and we'll explain our services.