Do you want to finish your vessel renewal, but you keep putting it off until tomorrow? It seems pretty tough to sit down and fill out these papers. If you're feeling that way, it's quite understandable.
After all, you didn't acquire a vessel just for the sake of filing papers. The reason you did it was so that you could spend more time on the water, whether for recreation with family and friends or to earn a job.
As a result, we created this website to make the whole procedure quicker and more convenient for vessel owners like you.
Vessel Renewal Is Now Being Done Years In Advance
Vessel owners have only been allowed to renew their vessel paperwork for one year at a time from the commencement of the process.
Because of this, even the most careful vessel owners may find themselves missing a year and having their documentation revoked.
We don't want it to happen to any other sailboat owners. As a result, you'll be able to renew your membership at our site for not only two, three, or even four years in advance — but for as long as five years from now.
For the foreseeable future, you'll be in full conformity with the authorities.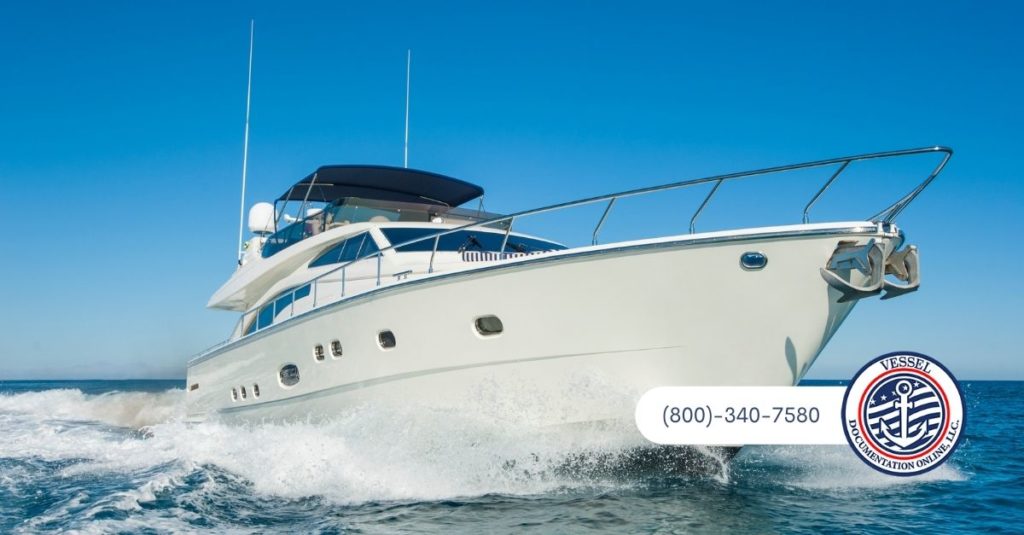 The Best Way to Renew Your Vessel Ahead Of Time 
Is there anything else you'd want to know about renewing USCG vessel documentation? Making the process of renewing your Coast Guard documents far less onerous is now possible.
The form may be completed online and sent to us by visiting our website, the Vessel Documentation Center, and following the on-screen instructions to complete the form.
If a vessel meets the relevant requirements, the National Vessel Documentation Center (NVDC) of the United States Coast Guard will provide it with a unique identification number.
Vessel documentation is primarily a national record of boats, comparable to how Social Security numbers serve as the identity for persons.
This is the essence of what vessel registration is. The certificate of documentation for a vessel performs a variety of duties.
In the first instance, it aids in establishing ownership and permits for the use of preferred mortgages on a vessel.
According to the United States Coast Guard, it is a maritime lien that is given "a certain amount of priority in the event of default."
How Do You Deal With an Out-of-Date Vessel Registration? 
You've been having the fun of your life sailing your boat across the globe, just as you'd hoped. A whole year has passed since the Coast Guard first alerted you to the disappearance of your sailboat.
You forgot to update your boat's documentation with the Coast Guard in your rush to enjoy your time on the water. There are two events that we all miss: birthdays and anniversaries.
As a result, it's understandable that you failed to renew your Coast Guard papers every year. There's no need to panic unless your vessel's documentation is going to expire. It's a relatively straightforward approach to fix the issue.
Is There A Consequence If You Don't Renew Your USCG Vessel Registration?
Unpredictable events, such as inadequate preparation for the renewal of your documentation, may result in complications. If this happens, the Coast Guard has procedures in place, and you still need your documentation.
You have thirty days from the moment your documentation expires, according to federalregister.gov, to submit a renewal application without encountering any difficulties.
You will be obliged to apply for reinstatement of your papers if you do not renew your documents within thirty days. This application needs a different form than a renewal and is more costly than a renewal.
Fines and other penalties may be imposed on you if you operate your vessel while possessing an invalid certificate of documentation.
Purchasing Or Selling A Watercraft
Suppose you're in the process of selling or purchasing a boat when you discover that the vessel paperwork has expired. Ensure not to be concerned about it. If the paperwork has expired, the Coast Guard will complete the transfer for you. However, be on the lookout for scammers.
You are not required to pay an additional fee to get your documents reinstated before completing the transfer. In other words, anybody who tells you otherwise is out to get your money by taking advantage of you.
This informative article made the vessel registration process faster, easier, and more convenient. There is so much work to be done before you can go boating again that it's painful to think of it, but the experts at the Vessel Documentation center are here to help.
Life is easier when you have a group of professionals with relevant experience on your side. With our help, you can get your vessel renewal out of the way and back on the water in just a few days. We'll be happy to guide you through each step of the renewal process so that you're up to date with everything that's needed.