Many boat owners get the surprise to learn that there is a lot of paperwork to do in boat ownership. Title renewals, changes of address, name changes, and much more require the proper documentation, and the process can be tedious. Vessel Documentation Online is not the U.S. Coast Guard or the National Vessel Documentation Center; we are a third party private agency that makes processing your boat documentation fast and easy. 
Who Needs Vessel Documentation? 
Vessel documentation is similar to motor vehicle registration. This documentation provides evidence of national identity when in international waters, thus it allows for movement between the states. All vessels measuring at least 5 net tons must be registered if they transport merchandise or passengers between points in the U.S. or internationally. Not sure if your vessel measures 5 net tons? Typically, vessels over 25 feet in length will weigh 5 net tons. 
Important Vessel Documents
While you may never need to file some of these, knowing the important vessel documents you will need in certain events is necessary for any boat owner. Here are some of the most important vessel documents that vessel owners commonly need: 
Initial Vessel Documentation
The Initial Vessel Documentation form is an application for vessels that have never been registered. So this form is the first that owners of vessels measuring 5 net tons or more have to fill. In this initial form, vessel owners can establish the name of their boat, its hailing port, and all other details relating to its housing and ownership. 
Renewal
Documented vessels have a Certificate of Documentation with an expiration date. Vessels whose Certificate of Documentation have been expired for more than 30 days may apply for CoD renewal. However, the Renewal form is for vessels that have already been documented, not for new vessels. 
Transfer or Exchange
The form for a vessel transfer or exchange is one you will need if you ever need to add or remove a member of the vessel's ownership. Circumstances requiring a transfer or exchange include marriage, divorce, sale, or purchase of a vessel.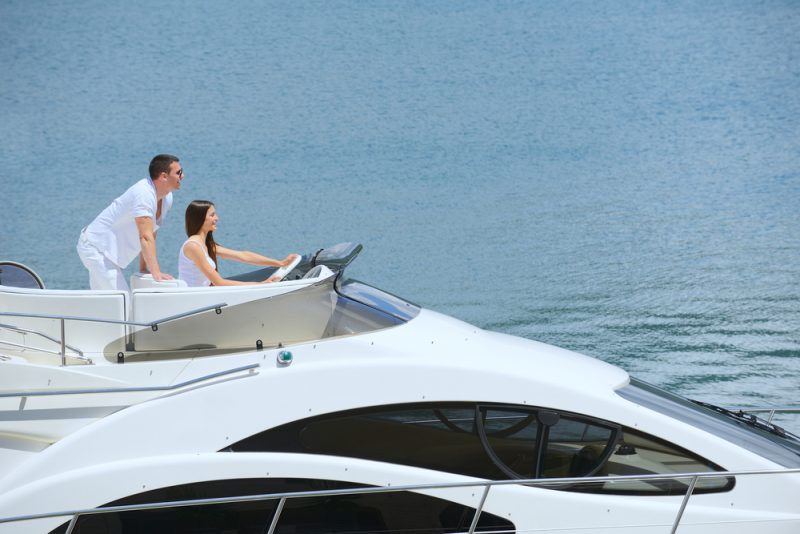 Replacement Certificate of Documentation
If you lose or damage your Certificate of Documentation, you will need to apply for a replacement. The Replacement form will allow you to acquire a new CoD and continue business as usual. 
Using Vessel Documentation Online
Filing all the necessary USCG documentation can be a lengthy process, and when you choose to go through the Coast Guard or the National Vessel Documentation Center, the process can become even lengthier. Vessel Documentation Online is a one-stop-shop for completing and submitting USCG boat documentation in a timely and simple manner.  
Besides the important documents listed above, Vessel Documentation Online has the following forms available for the convenience of our customers: 
Reinstatement

Change of address

Deletion from USCG documentation

Change of name or hailing port

Satisfaction of mortgage
Complete Forms Anywhere, Any Time
Rather than sending your forms through the mail or downloading PDFs off the Internet, Vessel Documentation Online makes it easy for customers to complete and submit forms from anywhere at any time. Our users love our service because they can complete their important boat documentation from the comfort of their homes, their car, or even their boat. How is this possible? Vessel Documentation Online is mobile optimized. So you can complete USCG forms anywhere you have an internet connection. 
Take the Guesswork Out of Renewal
Life gets in the way sometimes, and all of us have experienced completely forgetting to submit an important form or renew a document. Since we know life gets in the way, Vessel Documentation Online makes it easy to remember to renew your important vessel documentation. When you file online with us, we keep your documents organized so you will never forget to renew again. The best part? You can do certain document renewals in only a few quick clicks with Vessel Documentation Online.
Quick, Safe, and Easy
Filing your vessel documentation with Vessel Documentation Online is the fastest, safest, and easiest way to submit your vessel documents. Worrying about losing documents in the mail? Or being late because of the weather? Or even being mishandled along the way? Filing online takes all the worry out of the process. By filing online, you also ensure your personal information is safe and organized. Even after you file. Vessel Documentation Online keeps all your information secure. And it offers you access to it so you can keep track of everything you need. It also will remind you when it is time to renew. Filing and renewing your documentation has never been faster, easier, or safer than when you do it with us 
Visit Vessel Documentation Online to complete and submit your documents, and learn more about how to register your boat today!