Vessel renewal is a critical process that ensures the continued operation and compliance of maritime vessels. The National Documentation Portal, a reputable private agency specializing in USCG Documentation processing, plays a vital role in facilitating renewal processes. In this article, we explore the significance of these processes and how the National Documentation Portal enables maritime businesses to chart a course for operational excellence.
Understanding Vessel Renewal
Vessel renewal involves renewing essential documents and certifications to maintain compliance with regulatory standards. It encompasses the renewal of key documents such as the Certificate of Documentation, which establishes vessel ownership and nationality, as well as licenses, permits, and endorsements. The National Documentation Portal streamlines the renewal process, providing a centralized platform for efficient documentation processing and renewal applications.
Ensuring Compliance and Safety
Documentation renewal is crucial for ensuring compliance with maritime regulations and safety standards. By renewing necessary documents and certifications, maritime businesses demonstrate their commitment to upholding operational excellence and the safety of crew, passengers, and the environment. The National Documentation Portal serves as a reliable resource, guiding vessel owners through the renewal process and ensuring that all requirements are met.
Streamlining Documentation Processing:
Navigating the complex documentation processing for renewals can be time-consuming and challenging. The National Documentation Portal simplifies this process by offering a user-friendly interface and comprehensive guidance. Through the portal, vessel owners can access information, submit renewal applications, and track the progress of their documentation. This streamlined approach saves time and effort, enabling maritime businesses to focus on their core operations.
Planning for Long-Term Success:
Vessel renewal goes beyond mere compliance; it is a strategic endeavor that supports long-term success. By proactively renewing key documents and certifications, maritime businesses mitigate risks, enhance operational efficiency, and maintain a competitive edge. The National Documentation Portal assists in planning for long-term success by providing timely reminders for renewal deadlines, ensuring continuity in vessel operations.
Optimizing Insurance Coverage:
Vessel documentation renewal plays a significant role in optimizing insurance coverage for maritime businesses. Insurance providers often require up-to-date documentation as part of their coverage terms. By promptly renewing necessary documents, vessel owners demonstrate their commitment to risk management and can negotiate favorable insurance rates. The National Documentation Portal acts as a partner, ensuring that vessel owners have the necessary documentation to meet insurance requirements.
Enhancing Reputation and Marketability:
Renewed documentation and certifications contribute to the overall reputation and marketability of maritime businesses. Prospective clients, partners, and investors value vessels with a robust compliance record. By leveraging renewal processes, businesses can enhance their reputation for reliability, professionalism, and adherence to industry standards. The National Documentation Portal supports this endeavor by providing the necessary tools and resources for successful vessel renewal.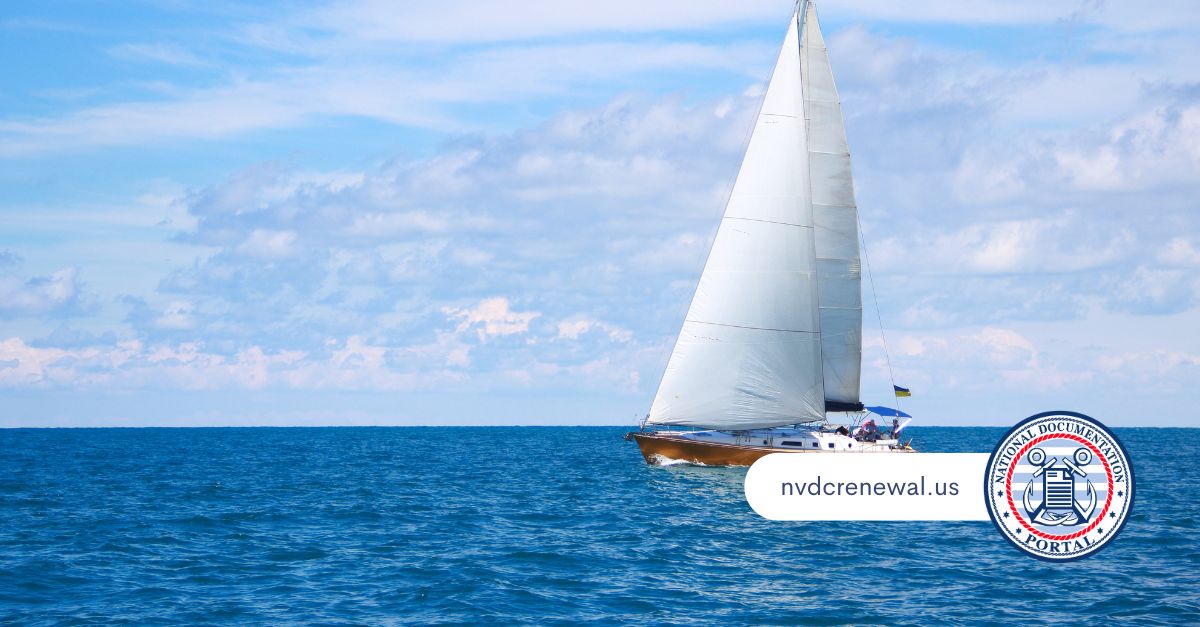 Promoting Sustainable Operations:
Renewal aligns with the principles of sustainable operations in the maritime industry. By ensuring vessels comply with environmental regulations, maritime businesses demonstrate their commitment to preserving the marine ecosystem. Documentation renewal encompasses certifications related to environmental protection, such as Ballast Water Management and Emission Control Area compliance. The National Documentation Portal facilitates the renewal of these certifications, fostering sustainable practices in the industry.
Vessel renewal is a critical component of operational excellence for maritime businesses. The National Documentation Portal serves as a trusted partner, enabling efficient and streamlined vessel renewal processes. By leveraging the portal's resources, maritime businesses can navigate compliance requirements, enhance safety standards, and position themselves for long-term success. With the National Documentation Portal as their guide, maritime businesses can chart a course for operational excellence and thrive in the dynamic maritime industry.