This blog was written in the spring when the world seemed to wake up from the winter. The sun is out, it's actually warm and there's a sense of possibility in the air. This is the perfect time to be on a boat. Sure, the water might be a little cold (depending on where you are) but it feels like the world is gearing up for a great summer. Documentation is important, of course, but what's more important is making sure that you adhere to boating safety. Our boat documentation site compiled a few more boating safety tips that could make a difference for your trip.
Personal Flotation Device
That's what they're called now, but for many of us growing up, they were known only as the "life jacket." The personal floatation devices we have today are far more advanced than the ones we had just a few years ago. However, no matter what kind of personal flotation device you get, there's one ironclad rule: have one for each person on your vessel. You never know what could happen. Obviously, you hope for and plan for the best. But, when you're out on the water, things can take a turn. That's why it's so important to always be prepared.
Check your Life Jackets
It can be difficult to remember to do this. When we say "check your life jackets," we don't mean that you have to do it each and every time you shove away from port. A good rule of thumb: check them once a year. Many boat owners do it at this time of year: right before the season begins. That way, you can see if you need to get new personal floatation devices before summer begins in earnest. A life jacket check on land can save you a lot of headaches once you get out onto the water.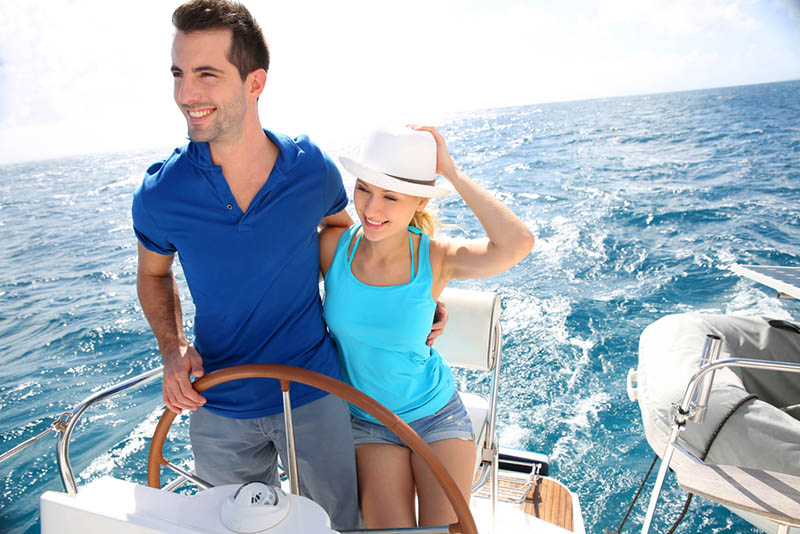 What a Check Consists Of
Checking a life jacket is more than just an eye test. You want to check it for both wear and buoyancy. You might be saying: "wear? I've never had to wear the thing, how could it be suffering from wear?" Well, life jackets age, too. Even the best life jacket will eventually wear out, sitting on a vessel or in storage for years. One way that many people decide if a life jacket is too far gone: if it's faded. If the colors are nowhere near what they were when you bought the jacket, it's time for a new one.
Also, you want to be careful when checking for buoyancy. You don't just want to throw it in the water, see if it floats for a second, and then put it back on your vessel. Make sure that there aren't any leaks, too. Let it sit for a minute, just to see if any leaks will come out of the vessel. That way, you can be one hundred percent sure that it's ready for boating.
Personal Flotation Devices for All Ages
Kids have different bodies than adults, even pre-teens and teens. A personal flotation device that's right for an adult won't be right for a child. So, you want to make sure that you have the right kind of life jackets for children when they're going to be on board. As you may not know when friends or family with kids are going to stop by, it's probably a good idea to buy a couple life jackets, if possible, that are in children's sizes. That way, when someone drops by unexpectedly, you can show off your boat on a fun boat ride.
There's more to "personal flotation devices" than just life jackets, too. If your vessel is more than 16 feet, to be in compliance with Coast Guard requirements, you have to have more than just life jackets on board. You also need to have a Type IV throwable device as well. You need to have at least one, but unlike life jackets, you don't need to have one for everyone on board. Just like the life jackets themselves, you never realize how much a Type IV device can help until you need one.
Another Kind of Boat Documentation Site
At our site, we can help with a different kind of Coast Guard requirement: documentation. While every vessel needs to have some kind of personal flotation device for crew members, not every vessel needs documentation. At our site, you can see if your vessel is one that needs documentation, or if it's something that you may not have to worry about. When you're out on your vessel, you want the peace of mind to enjoy it. You can get that by taking care of the little things that matter, like checking your personal flotation devices and your documentation by calling us at (800) 535-8570.